Tom is a frequent co-host and contributor to the 6:05 Superpodcast. He first appeared on the show during a Dennis Of The Week Segment.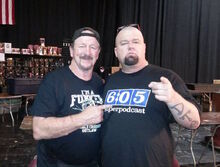 Stories
Tom's stories have become very popular amongst the 605'ers. Popular tales include:
His near fight after drinking with Ric Flair in December, 2015.

Dennis Coralluzzo telling Tom that his girlfriend was under the bleachers with Ox Baker.
Bobby Fulton demanding that Tom stop the car while he was being driven to a hotel after Tom called the Marriott the "Markiott."
Impressions
Tom has done the following impressions on the show:
Jim Neidhart
Sabu
Taz
Ken Resnick
Buddy Colt
Drunk Ric Flair
Dusty Rhodes
David Crockett
Randy "Macho Man" Savage
Tom also voices the characters Stuttering Tommy Rich & TRnac.
Nicknames
Ad blocker interference detected!
Wikia is a free-to-use site that makes money from advertising. We have a modified experience for viewers using ad blockers

Wikia is not accessible if you've made further modifications. Remove the custom ad blocker rule(s) and the page will load as expected.