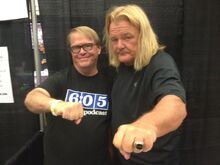 Scott Cornish is a frequent co-host and contributor to the 6:05 Superpodcast. Scott first appeared in the co-host chair on Episode 37, after having been mentioned several times in previous episodes.
Characters
Scott has voiced the characters of Sheila The Shooter and Impressionist Jim Ross. While doing the Impressionist Jim Ross, he has also done impressions of Jimmy Valiant, "The Genius" Lanny Poffo, Terry Funk and Gordon Solie.
Ad blocker interference detected!
Wikia is a free-to-use site that makes money from advertising. We have a modified experience for viewers using ad blockers

Wikia is not accessible if you've made further modifications. Remove the custom ad blocker rule(s) and the page will load as expected.