Marc Gullen was a manager and wrestler. His managerial stable was known as the House Of Gullen, and was comprised of Teijo Khan, Yomamba The Jungle Savage, and the Midnight Rockers. He also wrestled as The Beast, teaming with the Beauty, Terry Garvin Simms.
Marc memorably appeared as a guest on episode 24: House Of Gullen. TGBL has made many attempts to get Marc back on the show, but has not been able to.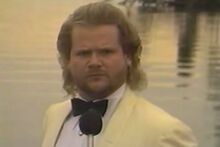 Marc's former tag team partner Terry Garvin Simms appeared as a guest on the show and talked about Marc on episode 39.
Sound Bites
Ad blocker interference detected!
Wikia is a free-to-use site that makes money from advertising. We have a modified experience for viewers using ad blockers

Wikia is not accessible if you've made further modifications. Remove the custom ad blocker rule(s) and the page will load as expected.