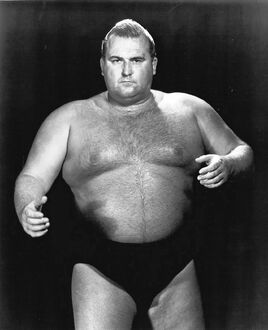 Dr. Jerry Graham was a legendary wrestler as one half of the Golden Graham / Graham Brothers tag team with Eddie Graham in the Northeast for Capitol Wrestling in the 1950's, and has cemented himself in cult status on the 6:05 Superpodcast due to humorous discussions about his erratic and personal antics behind the scenes in wrestling.
Origin on the 6:05
Write the first section of your page here.
Relationship with Kurt Brown
Kurt Brown first mentioned in episode 50 that his first run-ins with the Doc occured in the early 1980's after driving the Doc home from a show near Bakersfield, CA.
Idiosyncrasies and "The War Cry"
A staple of Dr. Jerry Graham stories on the 6:05 relate to the overall mannerisms and demeanor of the good Doctor during his sobriety, and equally, his times of inebriation.
Photos and Videos