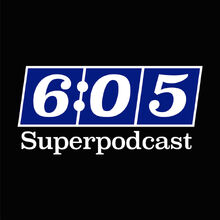 Overview
The 6:05 Superpodcast is a classic wrestling podcast hosted by The Great Brian Last. The show regularly features historical segments, interviews, book reviews, satire and humor.
Frequent co-hosts and contributors have included Jim Cornette, Scott Cornish, Tom Robinson and Kurt Brown.
Welcome to the 6:05 Superpodcast Wiki
The official wiki of the 6:05 Superpodcast, the Mothership, the best wrestling podcast on the planet!
The 6:05 Superpodcast is a podcast about classic pro wrestling & cult wresting favorites hosted by The Great Brian Last
Latest activity
Photos and videos are a great way to add visuals to your wiki. Find videos about your topic by exploring Fandom's Video Library.
Ad blocker interference detected!
Wikia is a free-to-use site that makes money from advertising. We have a modified experience for viewers using ad blockers

Wikia is not accessible if you've made further modifications. Remove the custom ad blocker rule(s) and the page will load as expected.