The 6:05 Superpodcast is a classic wrestling podcast hosted by The Great Brian Last. The show regularly features historical segments, interviews, book reviews, satire and humor.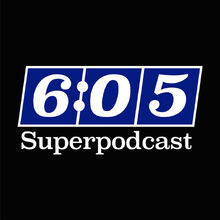 History
Episode List
Co-Hosts and Contributors
The show was co-hosted by David Bixenspan, who also was a co-creator of the 6:05 Superpodcast, through episode 36. Since episode 37 there has been a revolving door in the co-host chair. Co-hosts have been:
Scott Cornish, Tom Robinson, Kurt Brown, John McAdam, Jim Cornette, Bob Barnett, Travis Heckel, Bobby Blaze, Mike Mills
Notable Show Moments
Segments
The Top Ten, Book Of The Week, Dennis Of The Week, Interviews, What If?, Easter Egg audio, Classic Audio
Interview Guests
Superuniverse Characters
Sound Bites
Merchandise
Social Media
Links
Official Page: 605pod.com
Official Facebook page: facebook.com/superpodcast
Official Twitter page: twitter.com/605pod
Paypal Donations: paypal.me/superpodcast
Amazon Referral: tinyurl.com/superpodamazon
Official Online Store: tinyurl.com/superpodstore
Ad blocker interference detected!
Wikia is a free-to-use site that makes money from advertising. We have a modified experience for viewers using ad blockers

Wikia is not accessible if you've made further modifications. Remove the custom ad blocker rule(s) and the page will load as expected.